Andre Ferreri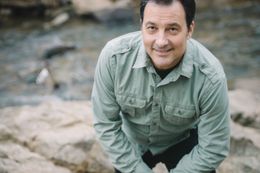 ANDRE FERRERI BIO 2021
Launching his career after a year at Berklee College of Music touring with Maurice Williams and the Zodiacs, New York born, Charlotte NC based guitarist Andre Ferreri has a resume as expansive, freewheeling and genre transcendent as his compositional and playing style. Over the decades, he's worked professionally with an array of pop, soul and jazz legends, from Sam Moore, Chuck Berry, Little Anthony and the Imperials and Classics IV to The Platters, The Coasters, Herbie Mann, Dave Valentin, Bill Evans and Bucky Pizzarelli.
For 12 years, he led contemporary jazz ensemble Airstream as the main outlet for his eclectic original material and he is first call guitarist for his hometown Charlotte Symphony. His compositions have appeared on TV shows, in films and commercials and for years he produced soundalike tracks for the karaoke company Sound Choice. In 2008, Ferreri co-founded Laser Records, a label created to help musicians promote their music.
For all these vast accomplishments, nothing thrills Ferreri more – or makes him feel more creative, expressive and vibrant - than when he gets back to the traditional jazz and swing that shifted his sensibilities early on from 70's classic rock to the influences of George Benson, Hank Garland, Wes Montgomery, Pat Martino, Kenny Burrell and Joe Pass. His perfectly titled latest album Numero Uno– attributed to the Euro sounding Andre Ferreri Quintetto - brings him full circle, and is the culmination of the past four-five years of his life. He laid the foundation for his full-fledged return to traditional jazz with his 2015 album Tributes, which included a song dedicated to Pass.
From the bebop big band flavored opening track "Mighty Fine" – inspired by a friend he calls "Mr. Roy" - through the sultry and lyrical "Love Letter to Mary" (his wife), every note, chord and phrase we hear on the new collection has its roots in a 24-day trip in 2019 that Ferreri took to visit family in his ancestral home of Italy. He spent two years as a child living there as well. Technically it was a vacation, but he naturally gravitated to the clubs, where he heard some incredible straight-ahead jazz – and one night he sat in at Gregory's in Rome.
Another inspiration was the Blue Note Jazz Cruisein February 2020 (just before the pandemic) and where he met Kirk Whalum, his original choice to play on the track "Seasons." Whalum was not available but Ferreri's longtime tenor sax colleague Ziad Rabie helps bring out the intensity of the emotions on that tune and throughout the project.
Other longtime associates that form the core "Quintetto" include acoustic bassist Anna Stadlman and pianists Mark Stallings, Phillip Howe and Sean Higgins, who each play on several tunes. Stallings also plays the Hammond B-3 on the barnburner "Uptown Swing."Ferreri worked for the first time with Kobie Watkins, a well-traveled world class drummer who has skinned for everyone from Kurt Elling and Arturo Sandoval to Sonny Rollins. Ferreri chose to name his group the Italian version of "quintet" because the project has a Euro-Italian feel to it and he wanted to pay homage to both his heritage and the inspiration he found in Italy.
"While I can attribute the inspiration for the songs on Numero Uno to these incredible travels, for me, it's almost like the music is pulled out of the ether, as if the songs are already written and I made them into music you can listen to," says Ferreri, who wrote the songs in a two-week period in May 2020 and recorded over three days in 2021 at GAT3 Studios in Charlotte. "A lot of these tunes came quickly and easily, and my only criteria was that I was going to write a song every day. I didn't have an overriding concept, except that I wanted the project to be traditional jazz yet leaning towards the contemporary side of that. I gave the musicians my demos and charts, we all went into our secluded booths in the studio and got everything down in two or three takes."
ON STAGE
Though he is in many ways a "musical citizen of the world," Ferreri's live jazz playing in recent years has mostly been in small clubs throughout the Southeast. In the Charlotte area, he played weekly for years at The Double Door, and more recently his go-to has been Middle C Jazz, where he plans to host the CD release party for Numero Uno. Regionally, he has performed at One Step Down in Washington DC, Myskins in Charleston, SC, PB Scott's in Asheville, NC, Night Flight Café in Savannah and Little Points in Atlanta. The guitarist has also played at the Jacksonville Jazz Festival, Atlanta Jazz Festival and Charlotte Jazz Festival, and the Bechtler Jazz Series at the Bechtler Museum of Modern Art in Charlotte. Throughout his career, Ferreri (sometimes with his group Airstream) has opened for greats like David Sanborn, John Scofield, Earl Klugh, SpryoGyra and The Dixie Dregs. For Ferreri, the success of any live performance is based on the connection the band creates with the audience – and for him that includes talking frequently to the crowd and creating set lists that build momentum, break down and build back up to create a unique musical energy flow that always ends on a high note.
NOTABLE PERFORMANCES
Charlotte Jazz Festival - Charlotte, NC (w/ Dave Valentin, Flight 108 and Airstream)

Atlanta Jazz Festival - Atlanta, GA (w/ Projections featuring T. Lavitz)

Jacksonville Jazz Festival - Jacksonville, FL (w/ Flight 108)

Middle C Jazz Fest -  Charlotte, NC (with Airstream)

Tribute to Joe Pass (Sold Out) – Bechtler Jazz Series with The Ziad Quartet

Bechtler Museum Jazz Concert Series - Charlotte, NC (Tribute to Wes Montgomery, Sold Out)

Halton Theater - Charlotte, NC (Sold out, opened for Ear Klugh and Eric Marienthal performing w/ The Brubakers)

Holiday Blues (Live Stream) - Bechtler Jazz Series with The Ziad Quartet
MUSIC
Just as he does during his live performances, Ferreri takes the listener on a dynamic emotional journey that balances up and downtempo tunes seamlessly. His opener "Mighty Fine" – the be-bop big bander he penned for "Mr. Roy," a "real character" who he sees at many of his hometown gigs – starts with a big drum flourish and piano punches, then eases into a lively percussive swing vibe driven melodically by the exciting duality of his guitar and Rabie's tenor. Ferreri later takes a fanciful electric guitar solo on the Benedetto G35 over Sean Higgins' spirited piano and the high octane rhythm section. Other highlights that showcase the band's intensity are Rabie's sizzling funk solo, Anna Stadlman' plucky bass solo and Kobie Watkins explosive drum solo. 
Although the moody, lyrical and deeply soulful mid-tempo "Seasons" was inspired by Kirk Whalum, whom Ferreri met on the 2020 Blue Note Jazz Cruise, Rabie does an impeccable job bringing out all the intended emotions and turning it into a saxophone ballad for the ages. The meditative, slow building track's core is where Mark Stallings' thoughtful piano harmonies lay a lush foundation for the sparkling sax/guitar duality of Rabie and Ferreri.
Part of the excitement of the narrative the guitarist builds throughout Numero Uno is the incredible mood swinging – and he artfully follows the smokiness of "Seasons" with the whimsical fast paced and (delightfully furious) bluesy jam "Uptown Swing," a funky shuffle which reflects the spirit of Jimmy Smith and Stanley Turrentine. While more of that wild Ferreri/Rabie duality happens throughout, the track also features several punchy conversations with Mark Stallings' burning Hammond B-3 – first with Rabie and later Ferreri in one of his most intense solo spots. The guitarist dedicates the track to his recently departed friend and mentor Bill Hanna, a well-respected educator as well as pianistand trombonist with the Woody Herman Herd and Stan Kenton.
Other can't miss highlights include the beautiful ode to Ferreri's wife "Love Letter to Mary," the bustling, playfully swinging and snappy guitar-sax driven "On the Move," dedicated to Ferreri's great influence Pat Martino and the title track "Numero Uno," which begins in a gentle strum mode before building into a feisty swinger that includes numerous tempo, groove and harmonic shifts as it builds to one of Ferreri's trademark speedy solos, followed by a rollicking low toned piano solo by Stallings. Ferreri shows a heart for musical social consciousness on "We Were All Children," an elegant smoky and atmospheric ballad that was inspired by the murder of George Floyd and the Black Lives Matter movement. Its title is a pointed reference to the reality that we start out life as colorblind children before things happen to make us either prejudiced or tolerant.  
Later in the tracking, Ferreri includes the interesting suite of sister songs "Making Major Changes" and "Making Minor Changes," which to the ear of the non-musician might simply seem like cool ballads of varying tempos but create a feast of unique chord sequences for the trained musical ear. As Ferreri explains, "They follow the same chord progression. The differences that make each song unique are one is all major chords, the other is all minor chords. One is in 3/4 time, the other is in 4/4 time. Although the root notes of each song are the same, the melodies and tempos are entirely different. One melody moves linear up, the other moves linear down."
THE EARLY YEARS
Growing up, Ferreri – who picked up the guitar at age 9 and got serious around 16 – was all about rock (early Beatles, Rolling Stones, Led Zeppelin, Jimi Hendrix) before he got burned out on that and caught the jazz bug via everyone from John McLaughlin and Miles Davis to Wes Montgomery, George Benson, Joe Pass and others. After a year at Berklee – where he studied composition and arranging and went to school with future influential guitarists Kevin Eubanks and the late Emily Remler – he hit the road with Maurice Williams and the Zodiacs to the tune of 250 dates a year for four years. After living and playing in Atlanta for a year, he moved back to Charlotte, started gigging and recorded his first vinyl album Projections with Dixie Dregs keyboardist T Lavitz. His next group in the 80's, an intricate fusion ensemble called Flight 108, recorded four more albums that featured guests like Dave Valentin and Bill Evans. Ferreri's background includes work with hundreds of legendary artists and groups – including Brook Benton, The Chiffons, The Shirelles, The Platters and Jim Brock – and source music for shows on the Discovery Channel and Animal Planet and countless others. Other albums he recorded under his own name: A Place in The Shade (2004), Spirit Feel (2010), Tributes (2015) and Airstream-Relatively Speaking (2018).
REVIEW
"Traditional jazz fans should consider themselves blessed that a guitarist like Andre Ferreri – who clearly can and has played every style with great success and stylistic abandon – has chosen to return to his passion for trad jazz, bebop and swing and grace us with a spirited and soulful, multi-mood driven album with his "Quintetto" whose title Numero Uno promises that he and the great ensemble will be continuing this vibe for a long time to come. Full of passion, explosive jamming, touches of big band and blues, tributes to his wife Mary and Pat Martino, a successful executed chordal experiment (Making Major/Minor Changes) and a sliver of important social consciousness, this is a powerful and empowering collection that showcases what happens when a musical veteran finds fresh new purpose in his solo career and engages longtime pals (and Kobie Watkins) to help him realize hisvision that, like he says, almost seems divinely channeled." – Jonathan Widran, The JW Vibe
Airstream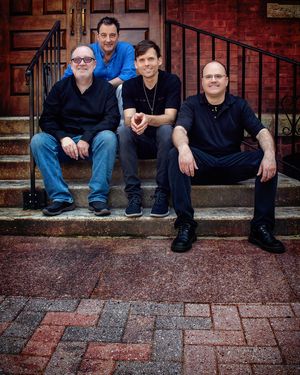 Mark Stallings is without a doubt the most sought after pianists in the southeast today. His list of performances and recordings are too long to name. A child prodigy and a graduate of NC School of the Arts. Mark has collaborated with many artists as a pianist , writer, producer and engineer. He is a full-time working musician.
Alfred Sergel IV has 26 years of experience as a professional drummer. He was trained on drumset and percussion at the Berklee College of Music and Florida State University. Throughout his career Al has recorded on Billboard charting albums & singles and has performed with Grammy & Dove Award winning artists. Al's creativity, style adaptability and musical sense give him an advantage and ease in collaborating with many musicians with versatile styles. Over the years Al has recorded with Jason Upton, John Mark McMillan, Chad Lawson, Frank Kimbrough, Christine D'Clario, Rita Springer, Leonard Jones, Don Potter, Suzi Yaraei, Jonathan & Melissa Helser and many more. Past live performances have included playing with notable artists such as Joan Rivers, Nnenna Freelon, Fred Yonnet, Kim Walker-Smith, Kristine DiMarco, Bryan & Katie Torwalt, Chris McClarney, Matt Maher, Pat Barrett (Housefires), Daniel Bashta, Bob Mintzer, Martin Bejerano, Marcus Printup, Rick Skaggs, Nelson Rangell, Jim Snidero and Adam Nitti. Currently, Al performs regularly with Jason Upton, Noel Freidline, Chad Lawson and his own band, the Alfred Sergel IVtet. He maintains an active teaching studio and is adjunct faculty at The Kings University. Al endor ses Sabi a n Cymba l s , Rega l Tip, Robert s Drums , ShyBaffles, 64Audio and TheBoxKit.
David Vergato is a musician and professional educator with experience teaching band, orchestra, jazz ensemble, guitar, and general music classes.  Originally from the suburbs of Pittsburgh, PA, he studied Studio Music and Jazz Performance on both the Double Bass and Electric Bass at the highly acclaimed University of Miami Frost School of Music and received a Bachelor of Music in May of 2000.  Dave moved to Charlotte in late 2001 and began to play professionally throughout the area, where he met Airstream guitarist and mastermind Andre Ferreri, keyboard genius Mark Stallings, and master drummer Al Sergel.  Dave later earned a Graduate Certificate in Teaching from UNC Charlotte in 2010, and a Master of Music Education from Winthrop University in 2015.  He is presently the Director of Bands and Guitar at Bradford Prep School in Charlotte and the Adjunct Professor of Bass at Winthrop University, and resides in Harrisburg, NC with his wife and two children.
When he's not teaching, he is stays busy performing with several groups throughout the Charlotte region and beyond. He has extensive performance experience and plays a wide variety of styles on both the electric and upright basses.  Some of the groups he has performed with include the Charlotte Symphony (Pops), Union Symphony Orchestra, the Carolina Voices, the annual satire Charlotte Squawks, Denver & The Mile High Orchestra, Debby Boone, Natalie Merchant, Little Anthony & the Imperials, Ben Vereen, The Platters, Bowzer (from Sha Na Na), The Smothers Brothers, Five By Design, Ira Sullivan, Steve Lippia, Leonard Jones, Bill Hanna, Noel Freidline, Chad Lawson, Gabe Dixon, and many others.  He has also worked as a pit orchestra musician at various theaters, on cruise ships, and at night clubs. In addition to Airstream, Dave has been involved in numerous original music projects in the Charlotte region over the years including Greg Lilley & Co., the Amy Broome Band, Ellie Morgan, Jessica Borgnis, Ricky Hitchcock (a.k.a. Vortex), Retro-Active, Mark Stallings Trio, Full Grown Band, and Punk Jazz Project. Dave plays regularly in the Charlotte region and at Hickory Grove Baptist Church, Eddie V's Prime Seafood, and with the Tosco Music Party house band.
Andre Ferreri  Originally from New York, Andre Ferreri is a self-taught guitarist who began playing at the age of nine. He started playing Jazz, R&B, and Top 40 music during his High School years, he then continued his studies in music composition and arranging at Berklee College of Music in Boston. His musical style was greatly influenced by many of the rock and roll legends of the time as well as jazz greats Joe Pass, Hank Garland, Wes Montgomery, Pat Martino and George Benson. Andre's signature style combines the sound and energy of rock with improvisational jazz.
After school, Andre garnered the recognition necessary to be called to perform and be hired as a session guitar player. His compositions have appeared on national television shows, movies, and commercials for both radio and TV.
Andre's credits include a long list of famous artists' albums. He has played with many group combos through the years including Brook Benton, Maurice Williams, General Johnson, Chuck Berry, Jim Brock, The Poor Souls, Fred Story, Maria Howell, Herbie Mann, Dave Valentin, Bill Evans, Adam Nitti, Bucky Pizzarelli, Sam Moore, Brian Hyland, Danny and the Juniors, Lou Christy, Dennis Yost and the Classics Four, The Chiffons, The Shirelles, Little Anthony and the Imperials, The Coasters, The Marvelettes, The Platters, Deana Martin, Jenifer Holliday, Roger Williams and many others. He has also worked as a guitar clinician at several events with Larry Coryell, Chuck Levell and T Lavitz. He currently plays original contemporary jazz music with Airstream who have enjoyed 12 years of performing and recording. Andre is also a first-call guitar player for the Charlotte Symphony. In 2008, Andre co-founded Laser Records, a music label created to help musicians promote their music.
Ziad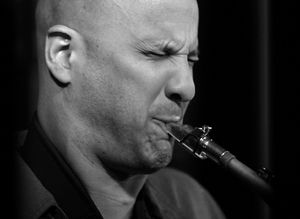 Ziad Rabie' is an acclaimed saxophonist and a graduate of Wake Forest University where he earned a B.A. in political science and philosophy. Ziad studied advanced jazz improvisation with internationally acclaimed and legendary jazz educator/musician/author Jerry Coker at the University of Tennessee, Knoxville for 3.5 years. Prior to studying with Jerry Coker, he studied jazz and music theory with Bill Hanna, a veteran of the Woody Herman and Stan Kenton orchestras.
Through performances and recordings, Ziad has made quite a niche for himself as one of the truly outstanding tenor saxophonists in the United States. Ziad's distinctive saxophone sound has been recorded on over 20 albums of various jazz, rock and gospel artists. Ziad has recorded with national artists including, "The Godfather of Soul James Brown", Gospel Music Hall of Fame Recording Artist "John P. Kee", Chart Topping Gospel Recording Artist "Donald Lawrence and the Tri– City Singers", Giant Warner Recording Artists "Company", the "Impressions" and many more. He has performed live with or performed as an opening act for Ramsey Lewis, Grover Washington Jr., Ronnie Laws, Herbie Hancock, Dizzy Gillespie, Dave Brubeck, Buddy Rich, Tom Scott, Tony Bennett, The Crusaders, Aretha Franklin, Gladys Knight, Roberta Flack, Lou Rawls, Greg Karukas, Jon Smith (Edgar Winter & White Trash), Mic Gillette (Tower of Power), Edwin McCain, Ron Holloway, and Russell Malone, to name a few.
 Ziad is the Artistic Director of the Bechtler Museum of Modern Art's First Friday "Jazz at the Bechtler" Series, which features The Ziad Jazz Quartet. Each concert has sold out since the series' inception in May of 2010. The series expanded to two shows in August of 2013, and both shows continue to draw standing room only crowds each month.
Dee Bell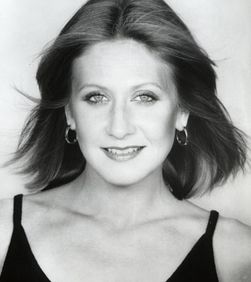 Biography
"Dee's voice is pure and tender, at times haunting. Her approach to the material is straightforward and unpretentious. She takes you inside the lyrics, and you can almost hear her smile.
- Jesse Hamlin, SF Chronicle
The Music
Dee Bell's debut album, Let There Be Love with Stan Getz on saxophone, and Eddie Duran (a Benny Goodman Band graduate) on guitar, was released on the Concord Jazz label (CJ-206) as an LP for Valentine's Day 1983. The record also featured prominent Bay Area musicians Al Plank, Vince Lateano, and Dean Reilly. Let There Be Love posted in the top ten in Radio and Records jazz airplay charts in the spring of 1983. The follow-up recording in 1985 of One by One (CJ-271), also on the Concord Jazz label, reached number 13 on the Radio and Records jazz airplay charts in early summer 1985. This album featured trumpeter Tom Harrell along with Duran and Plank, and other Bay Area jazz musicians. Let There Be Love was chosen as a BillBoard Magazine "Recommended LP Jazz Pick in 1983. " Bell was also nominated by Downbeat Magazine in their Jazz Critic's Poll for two consecutive years as "Talent Deserving Wider Recognition." BAM Magazine nominated Let There Be Love as the Best Debut Album and One by One as Best Jazz Vocal Album, both in their release years. Bell has performed nationally and internationally and has appeared at the Golden Globe Awards, the Russian River Jazz Festival, the Jazz in the City Festival, the Napa Valley Mustard Festival to name a few, as well as a wide variety of television, club and hotel performances.
Personal Life
Bell moved to San Francisco in 1978 to develop her professionalism as a vocalist and to work toward her goal to make a record in five years. One of her first experiences in Northern California was when she "sat in" at a Santa Cruz Jazz Club with Eddie Jefferson, where he told her "to keep on singin' because you've got a fine sound." The story of her first musical pairing with Eddie Duran is legendary. She met Eddie Duran at the Trident Restaurant where she was a waitress and his trio was the musical entertainment. He heard her sing "Happy Birthday" to a friend after hours, was taken with her voice and then asked her to sit in on all of his performances at the Trident over the next few years. In 1982, Eddie and Dee made a demo tape that enticed Stan Getz to volunteer to play on a record date, as Stan also was enchanted by Bell's sound. The demo tape led to Let There Be Love with Stan Getz, followed by One by One, also with Eddie and featuring Tom Harrell.
Bell grew up in a musical family in Fort Wayne, Indiana, and in her formative years, Indianapolis, Indiana, and is the middle child of five. She played clarinet and dulcimer at a young age, but as early as nine, her dream was to become a singer. Between the ages of 12 and 23, she performed in many musical groups, both vocal and instrumental.
First a pre-medicine, then an art student, she graduated from Indiana University in 1972 as an art teacher and metal sculptress. After graduation, she lived for several years in a cabin in the Hoosier National Forest with a wood stove for heat, no running water, and no telephone. During this period she studied voice with IU's visiting opera diva, Eileen Farrell, and performed in local clubs while she ran her own health food restaurant (which fostered one of the first health food stores in the Midwest). Bell also freelanced in the graphic arts by painting signs and creating logos for health food companies such as Willow Run Margarine. She continues to perform in the Midwest during summers, in California festivals, and for private invitation-only concerts.
"Bell has a haunting, jazz-infected sound, her diction and phrasing flawless."
- Leonard Feather, Los Angeles Times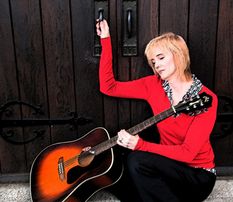 Singer/Guitarist Mari received her musical education while growing up in Cuyahoga Falls, Ohio. From guitar lessons beginning at age 9 to high school ensembles and several lead roles in musical theater along the way. She began composing in college and spent years performing at weddings, clubs and special events both locally and internationally.
Seeming to skip a generation or two, music played a major role in Mari's family heritage. Her grandmother played piano for the Silent Movies in the early 1900's. Her mother's great grandfather was the conductor of a Big Band in Union Town Pennsylvania in the early part of the 20th century.
Mari has an interesting musical story contributing to the intriguing metamorphosis of a unique style spanning many genres including Pop, Bossa and Jazz. In this self-titled project her crystal clear vocals and relaxed, subtle phrasing reflect the unique and familiar flavors of Basia, Joni Mitchell, Astrid Gilberto and Nora Jones.
The musicianship of the players is impeccable on this very impressive debut for the eclectic Mari.

For nearly two decades, the contemporary jazz group known as The Brubakers has enjoyed consistent artistic and commercial success by grafting elements of Pop, Rock, R&B, Fusion and a variety of other sounds to their unwavering jazz foundations. In the course of four recordings, the group has continued to explore the limitless dimensions and permutations of jazz while at the same time appealing to a broad mainstream audience. 
Their newest album released the summer of 2013 "Forever",  contains a unique collection of original music featuring Eddie Ritch, Andre Ferreri, Joe Gminder, Rick Almond, Carlton Jackson and Gray Fallin.

On their website, www.thebrubakers.net you'll find information about the group and its members, discover pictures that document the group from its formation to the present, and see the direction we've taken on our musical journey. You can read about the individual members' musical influences and some of our experiences. Key members of earlier Brubakers configurations are represented in our alumni section, including bassist Roger Kohrs, keyboardist Mark Holland, and guitarist Alex Bost.

Check out our their earlier CDs "Triple Bypass", "Second Nature", "The Time Has Come"